Design District Helsinki has won the first Helsinki Travel Award. It is granted by Helsinki Tourism Foundation to parties or actions that have had a positive impact on the development of tourism in the Helsinki region. Other awarded parties this year were HELtours that organizes interactive biking tours, and the founders of Royal Ravintolat: Mia and Kasperi Saari, and Pertti Hynninen. The awards' total value is 10,000 euros, and the prize received by Design District Helsinki is worth 6,000 euros.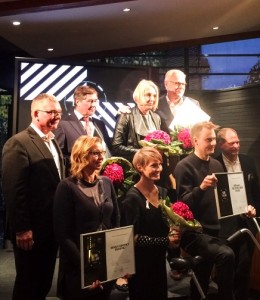 The award was presented for the first time this year. In the future, the Helsinki Travel Award will be granted annually. Award-winners are decided on by the board of Helsinki Tourism Foundation.
"Design District Helsinki is a service appreciated by its customers, helping travelers to explore Helsinki as a design and shopping city. It activates participants, is active year-round and is genuinely international", states Risto Lintula, the President of the Board of Helsinki Tourism Foundation.
Design District Helsinki's award was accepted on Thursday October 8th by the President of the Board Sirpa Linnanmäki and Executive Director Minna Särelä from the Design District Helsinki association. The prize is notable for the association, and will enable the realization of new communications and event concepts by the active design cluster.
"The award encourages our 10-year-old association to continue on the good work, and to trust the power of cooperation from which our activities stem", told Linnanmäki. "This award belongs to all of our over 200 members", continued Särelä.