How do you spend a day in Helsinki with culture and design at the top of your list of things to discover? Ask Kämp Goup's Strategic Marketing Director and Artek's President of the Board Mirkku Kullberg. Mirkku's route in Design District Helsinki picks some of the most interesting places to visit and takes you on an adventure inside the cities best kept secrets.
"Design District Helsinki is an appreciative concept for consumers, since it consists of readily curated destinations. Its network has a nice mix of institutions as well as new entries, full of timeless and internationally savy brands. The whole of Helsinki can not be conquered only on foot, but the design of Helsinki can be absorbed one step at a time through its architecture, art galleries and brick and mortar selection ", Mirkku encourages getting to know the network of Design District and all that it has to offer.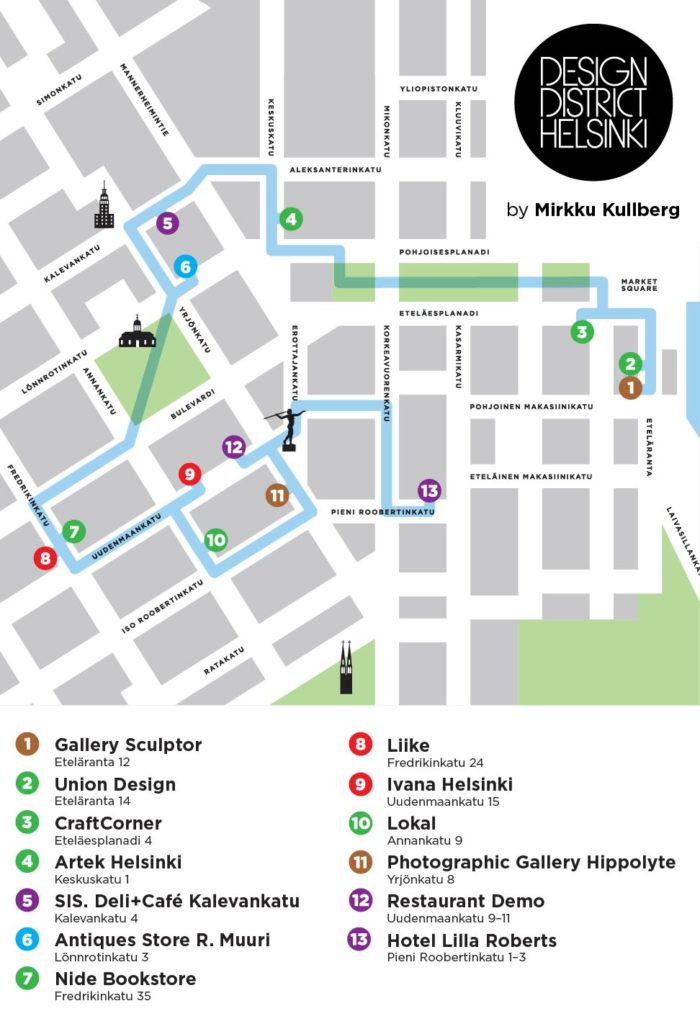 1. Gallery Sculptor, Eteläranta 12
My ideal day in Helsinki starts with art beside the Old Market Hall on Eteläranta street. Finnish sculpture is really interesting to me. Gallery Sculptor held by The Finnish Sculptors' Union is a must see.
2. Union Design, Eteläranta 14
This is Design District Helsinki's biggest jewelry smith collective. They work well together. The combination of several jewelry makers' pieces facilitates and enriches the customer's design experience. Finnish silver smith education is internationally acknowledged. It exhibits the rare inside look at the artists studio and working space while simultaneously acting as showroom and cutting edge design space. The interactive space allows transparency and craftsmanship to be at the forefront of the finnished product allowing the customer into the design experience.
3. CraftCorner, Eteläesplanadi
CraftCorner, a space by The Finnish Crafts Organization Taito at the corner of Etelä-Esplanadi, is a very interesting concept. It's a good example of how to present Finnish craftmanship in a new, topical manner. I regard doing things with your hands as a necessity for the sensory experience – it is missed and needed. At CraftCorner you can both admire at other peoples' skills and or do things yourself while attending one of their workshops.
4. Artek Helsinki, Keskuskatu 1b
Even though Artek is personally very important to me, I also find an absolute must-visit-destination for anyone on a design tour in Helsinki. The location of the new flagship store right by Stockmann on Keskuskatu is fantastic. The store is also boldly a new kind of Artek, which is really great.
5. SIS. Deli+Café, Kalevankatu 4
The lunch or afternoon coffee on my walking tour will definitely be picked up from SIS. Deli. I have lived with this cafe's good and easy food during my time at Artek, and I have never been bored. The different sandwhiches are classics, salads delicious and smoothies will always keep you going.
6. Antiques Store R. Muuri, Lönnrotinkatu 3
There are several high-quality antique stores to be found from Helsinki, and R. Muuri is one of them. I may just spend time around old dishes, and I have also bought some for my home – in fact, all of my home's glasses are Finnish antique. From R. Muuri, you can find classic Finnish design, especially high-quality ceramics such as topical Rut Bryk.
7. Nide Bookstore, Fredrikinkatu 35
This stylish book store is my number one favorite in Helsinki. I collect books and old magazines. I'm interested in many things – maybe that's why books have become such an important form of experience for me. The selection of the store has design strongly represented, but it also encompasses a full 360 degrees of all kinds of things.
8. Liike, Fredrikinkatu 24
Liike, a collective of eight fashion brands, has an interesting selection and is being curated with style. Popping by pays off even if you're not looking for anything specific, because at every visit you can find something you weren't expecting.
9. Ivana Helsinki, Uudenmaankatu 15
I have many nice memories from interinational fashion fairs from the times I used to work for the Finnish textile company Nanso. We used to represent Finnish fashion know-how together with brands like Ivana Helsinki, Hanna Sarén, Lempivaate and 2OR+BYYAT. So I have followed Ivana Helsinki's persistent, professional work for a long time already. The brand has maintained its ability to reform, and I think Ivana Helsinki is again making a kind of a comeback.
10. Lokal, Annankatu 9
This gallery-boutique led by Katja Hagelstam can not go without mentioning. Lokal is a design store of international level that has been so beautifuly curated to work together that it is already one piece of art in itself. A visit to Lokal also requires calming down and seeing entities from its visitors – in this store, everything is so beautiful.
11. Photographic Gallery Hippolyte, Yrjönkatu 8-10 (inner courtyard)
I recommend visiting Gallery Hippolyte to anyone who is fond of photographs or interested in photographic art – I pop by regularly myself to see what they have. The gallery is run by The Photographic Artists' Association, so exhibitions vary and are of extremely high quality.
12. Restaurant Demo, Uudenmaankatu 9-11
The dinner of my ideal day in Design District Helsinki is enjoyed at Punavuori's casual Michelin-star restaurant Demo. The restaurant is always as a classic with a fantastic menu and impeccable service.
13. Hotel Lilla Roberts, Pieni Roobertinkatu 1-3
My day tour ends at Kämp Group's new hotel Lilla Roberts that has an excellent lobby bar Lilla e. The outstanding bar is open to everyone – not just hotel guests. Thank you for your company! Let us raise a toast of Nordic flavors to a day of many experiences in Design District Helsinki!
Mirkku Kullberg
Mirkku Kullberg is the Strategic Marketing Director of Kämp Goup and President of the Board of Artek. She has previously worked e.g. as the CEO of Artek and Brand Director of Nanso. She was nominated as Design District Helsinki's Ambassador 2016 as an active and commendable influencer of design and tourism businesses.