Design District Helsinki is one of the partners of a brand new club concept Tavastian Sunnuntait (transl. "Tavastia's Sundays"). The club pushes boundaries by combining a legendary rock club, current Finnish music, a vegan brunch, easygoing Sunday mornings and design. The combination is as functional and fresh as you might expect, given its adventitiousness.
The first Tavastian Sunnuntai on February 26th filled in the hall with audience enjoying the music and lyrics of the Finnish singer-songwriter Samuli Putro. On the second club on March 19th, a local band Pariisin Kevät (transl. "The Spring of Paris") takes over the stage. The tickets to the clubs have been sold out in seconds, so expectations are already high for the announcement of the third club's artist and time.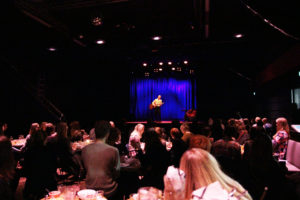 Design can be seen on Tavastian Sunnuntait in how the concept has been given its form, but also in details. The brunch and hall are decorated by Marimekko, and performers get a red velvet carpet under their feet from the local antique shop Fasaani.
Also a Finnish vlogger Mansikkka enjoyed what she saw and heard at the club. Take a peek at her Tavastian Sunnuntait moods from here (in Finnish):
Pictures: Helmi Korhonen