Since 19.9.1949, influencers of Finnish culture, business, culinary scene and international connections have been knighted to the Guild of the Knights of Torni at Helsinki's tower building Hotel Torni. In democratic Finland, the guild of knights is rather a part of cultural heritage than about protecting the country's power.
In 1997 Riitta Uosukainen, spokesperson of Finland's parliament of the time, had the privilege of becoming the first knighted woman in Finland. On September 19th, 2017, Executive Director of Design District Helsinki, Minna Särelä became the 17th woman and 340th person given this title in Finland.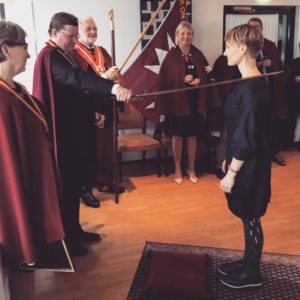 Helsinki has been named the World Design Capital in 2012, and given the title of a UNESCO City of Design in 2016. The guild has acknowledged the importance of design also before, as e.g. designer Harri Koskinen has been knighted for his versatile influence on Finnish design.
Since 2005, Design District Helsinki has had an active and important role in Helsinki's development, visibility and international connections as a city of design. Minna Särelä has served the association as a Member of the Board in 2012-2014 and as Executive Director since.