We are happy to share with you some parts of the feature published in February´s AD Italy! The story was put together by our former Executive Director Minni Soverila. Minni is now part of the Board of Design District Helsinki and she works at the Design Museum Helsinki as Communications Specialist.
This post is a part of series introducing all our Board members during this spring.
The story published in AD tells Italian audience, why Finland is the place to be – design-wise. Here is a slightly moderated version in English.
The Bold and the Playful – the New Generation of Finnish Design
What is going on in Finnish design? The old idols have left the playing field open for the younger generation. This list introduces six Finnish designers or designer groups, who are worth keeping an eye on.
New generation of Finnish designers emphasizes uniqueness and high quality in design. The strong design tradition of old masters, such as Alvar and Aino Aalto, Timo Sarpaneva and Tapio Wirkkala, is respected, but a new kind of visuality is built on top of it. The new style is based on bold experiments and practicality – not forgetting humor.
"It´s hard to pick only few designers to showcase. There is so much good energy going on in Finnish design right now.", says Piia Lehtinen the Chairman of Design District Helsinki.
Nature is still a strong source of inspiration, but now inspiration is also sought in digitality and global themes like eco-friendliness and collectible design.
Uniqueness, artistic qualities and respecting the handicraft tradition connect the work of the newer generation. Traditional craft skills are much appreciated, but the themes strongly arise from this moment.
Interested in the Finnish Design?
If you are planning a visit to Helsinki go explore the Design District of the city
Design District Helsinki is a cultural hub and a neighborhood in the center of Helsinki. Design District is an area full of designer studios and design shops, fashion stores, museums, art galleries, restaurants, design hotels and showrooms in the heart of Helsinki. From Design District´s streets, you can find the most interesting new names, designer classics and much more. Planning to visit Helsinki and want to know more? Go to
designdistrict.fi
or find the design community of Helsinki from Instagram @designdistricthelsinki.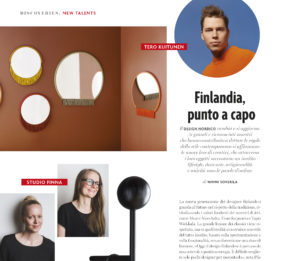 Designers to keep an eye on
Antrei Hartikainen
@antreihartikainen
Antrei Hartikainen (born 1991) is a designer and a master cabinetmaker. He is also the winner of The Young Designer of the Year 2018 -prize. In his work, Hartikainen combines traditional carpentry skills with artistic modern design.
"I follow the seasons and observe how the light plays with the surroundings. I´ll try to shift this delicate but strong transformation to my own material – the wood."
Katriina Nuutinen
@katriinanuutinen
Katriina Nuutinen has a unique style that combines playfulness and artistic touch with traditional materials like glass and wood. She strives to design something unusual, valuable and worth caring for.
"When quality materials and the skillful handwork of local craftsmen is combined in a product, the product will stand time and will be cherished by its owner. I have also noticed that for many customers it is important to be able to purchase the product straight from the designer."
Hanna Anonen
@hannaanonen
Hanna Anonen really knows her materials. She has a degree in carpentry as well as in applied art and design. Anonen´s works combine playful shapes to bright colors in functional products. Her wooden Cocktail-light was showcased in this year´s Salone del Mobile.
"Colour is being used more and more boldly in current Finnish design. I see it as a small break from the classical and composed style. Finnish design is creating its own new personal footprint and is starting to stand out in a positive sense in the field of Scandinavian design."
Tero Kuitunen
@tero_kuitunen_design
Tero Kuitunen works as a spatial and product designer in Helsinki. He has worked with clients such as Supercell, Absolut Vodka, Aalto University and Ivana Helsinki. He has participated in international exhibitions and fairs in Beirut, Stockholm, Japan and Italy.
"At the moment I'm especially interested in the interface of art and design. I want to broaden the notion of Finnish design and its significance with my work. I think design should be controversial, to wake the beholder up to feel and experience things."
Studio Finna
@studiofinna
Studio Finna is a Helsinki based design studio established by designers Anni Pitkäjärvi and Hanna-Kaarina Heikkilä. They find their creativity from the imperfection of everyday life rather than from pitch-perfect designer houses.
"For us design is a love marriage between reason and absurdity. We try to create things and solutions that stand the test of time but also say something about our own time. The origins are important to us as well, it is very intriguing and inspiring to see how things are crafted by skilled professionals."
Elina Ulvio
@elinaulvio
Elina Ulvio´s design has been described as functional art. Ulvio has a background in architecture and that shows in her work. In her designs she likes to add spatial elements like reflections, light and movement into the products.
"Versatility and artistic quality make products long-lasting. The craftmanship and conscious consuming trend is visible in current Finnish design. I think it speaks for the deepest essence of design in a nice way, where respecting quality is always foremost."