For fashion designer Katri Niskanen, a summer day in Helsinki is a celebration of all senses, inspiration and nostalgy, work and time off. Spend a day following Katri's route in Design District Helsinki, or pick interesting places to visit from along the way.
"I would wish for people to dare to visit boutiques even just for the experience, without thinking about what the salesperson possibly thinks or that they should buy something. It's for the customers that the boutiques exist. The best of what the city and its brick and mortar shops have to offer will be found just by walking, seeing and experiencing," Katri Niskanen encourages.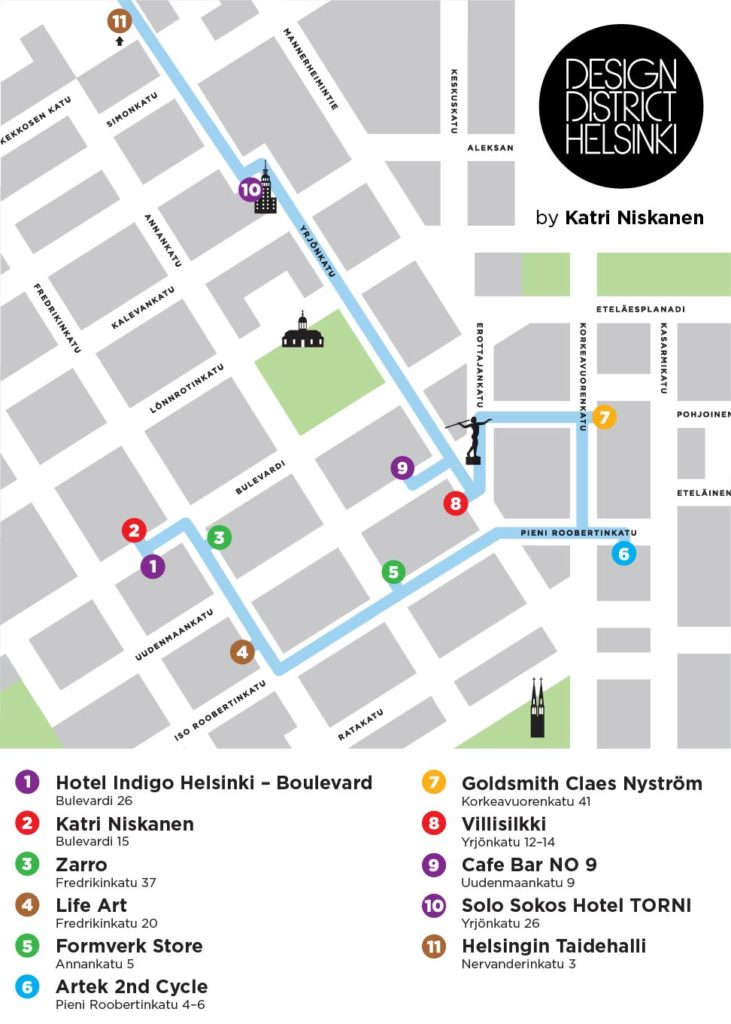 1. Hotel Indigo Helsinki – Boulevard, Bulevardi 26
Restaurant Bröd of Hotel Indigo is conveniently located just opposite to my boutique. Also, the food is of very high quality and versatile – the lunch of the restaurant is my true regular. During summertime, however, the lunch is on a summer break, and therefore my tour is kicked off with the restaurants' breakfast that is being served on weekdays until 10:30am and on weekends until 11am.
2. KATRI NISKANEN Boutique, Bulevardi 15
I have moved to Helsinki for my boutique and my clothing designer's career in 2009. I knew that in Finland, the most possibilities and contacts would be found from here. It's good that I then made that decision, because it has brought me to where I'm now. I couldn't imagine living and having my boutique in any other city in Finland. I like Helsinki, and also the location of my boutique along the park-like avenue Bulevardi.
I remember when my boutique was accepted to be a part of Design District Helsinki and its popular printed map. It was important and felt like that now my boutique and I are a part of this city.
For me, having a brick-and-mortar store for my clothing label is a matter that's close to my heart. Online sales become more and more important, but I couldn't imagine that there wouldn't be a store, too. In addition to the store enabling the possibility to feel and try on the collection, it's especially important for meeting my clients face-to-face and for customer service. As I was founding my own label and opening my very first store, I was running the business by myself and got to experience the importance of customer service and face-to-face encounters. When meeting in person with my client, I can tell them about the background of the products and I get to answer questions right away.
My KATRI NISKANEN collection is available on the street level of my boutique, and downstairs I do the fittings of my unique made-to-measure pieces. In making a unique piece, I get to dive even deeper into the client's personality, and the clothing is made for an important moment in life, therefore charging it with a huge amount of meaning. A succesfull made-to-measure piece requires meeting with the client. For me, my downstairs atelier is the most important fitting room of the city.
Regular clients are the best prize for this work – that new collections awaited and that a satisfied customer returns to the boutique time after time.
The interior products and furniture of this store always give me inspiration – the products are beautiful and modern. I have bought from here many pieces both to my boutique and to my home. This can very well be called my regular shopping spot.
I have painted with oil paints since I was five years old. At some point, the technique got changed into watercolour painting for practical reasons. Painting is nowadays also related to my work, since it's an important part of my creative process. I paint watercolour paintings of all of my made-to-measure pieces. These paintigs also serve as my other memory – with their help, I'm able to remember my previous works to their smallest detail.
When I get my paintings framed, I take them to Life Art. It's within a convenient walking distance, and from there you will also find a good selection of e.g. high-quality passepartout frames – and good service.
5. formverk store, Annankatu 5
There's a nice feel to this lifestyle store that sticks with you. Interior design shops give me similar inspiration of beauty as flower shops. Being and looking around in them is lovely food for soul and pleasure for the senses that gives me a good feeling.
Formverk store is located in the neighborhood of where my boutique formerly was, along the urban walking street Iso Roobertinkatu.
6. Artek 2nd Cycle, Pieni Roobertinkatu 4-6, open Thu-Sat
I love older design, and I also collect some of it to my home, e.g. furniture designed by Yrjö Kukkapuro. This store is a treasure chest of design classics from where you can find real gems.
7. Goldsmith Claes Nyström, Korkeavuorenkatu 41
This is a goldsmith's store that also has a lovely working studio – it is one of the jewelry makers' studios right in the Helsinki city center where spectacular jewelry is being made by hand. I have had photographs taken of evening gowns of my collection accessorized with Claes Nyström's jewelry.
8. Villisilkki, Yrjönkatu 12-14
The fabric store Villisilkki right by the Diana park has been already for years my regular place for buying fabrics. Therefore, the store is a part of my everyday life, and I have got close with its workers. The fabric selection of Villisilkki fits very well to my needs, and there are also loads of silks and wools available on order. The place is also lovely for getting inspired by fabrics and colors. Here, high-quality fabrics and good service are guaranteed.
9. Cafe Bar NO 9, Uudenmaankatu 9
On my walking tour, feet are given a rest and a food break is enjoyed on the terrace of Cafe Bar NO 9, or "Ysibaari" by its nickname give by locals. This restaurant-bar has a lovely atmoshere that reminds me of Mika Kaurismäki's movies, and good, relaxed food. I often have informal meetings here e.g. related to photoshoots of my collections. My favorites from the menu are noodle portions with a good dose of coriander.
10. Solo Sokos Hotel TORNI, Yrjönkatu 26
The best view onto Helsinki is worth its reputation. On the roof top of the city, you can sit at Ateljée Bar while enjoying the landscape. If I was your personal guide to Helsinki, I would bring you here to see it.
11. Kunsthalle Helsinki, Nervanderinkatu 3
For the last destination of my tour, one has to walk through Kamppi, away from the heart of Design District. However, the walking pay off, since the art museum Kunsthalle Helsinki (or Helsingin Taidehalli in Finnish) is worth every step. This is one of my favorite places in Helsinki, sympathetic and close to my heart. I go to see all of their exhibitions.
I enjoy Helsinki still, even though I come from the countryside. When I want peace and proximity of the nature, I also find it from here. Helsinki has a lovely beat of a small city. Everything works and everything is close by. I like Helsinki around the year. I hope you also enjoyed your day in the Design District with me!
Katri Niskanen
Katri Niskanen is a Helsinki-based fashion designer. She was nominated as Design District Helsinki's Ambassador 2016 as an active and commendable member of the association.
Photograph of Katri Niskanen: Ville Paasimaa
Visualization of the map: Hanne Huotari / byfar