Lokal and I, I guess, are pretty much the same. Everything started with my curious character and the uplifting inspiration I got from working on the book 20+12 Design Stories from Helsinki. The book was made to celebrate Helsinki's World Design Capital year 2012. Working on the book brought me to the studios of artists and designers, where I met so many talented people and saw such amazing work that I wanted to give that all a chance to be brought forward to the public.
I had always dreamed of some kind of a boutique or gallery, but now the dream started to have a more concrete form. I planned a pop up, but at the same time, the amount of work needed for the project started to feel insane in contrast to the temporary nature of a pop up. I found a business space from along Annankatu that had windows covered with brown paper. The owner wanted a three-year rental agreement and didn't believe in my business idea at all. Over three years have passed, and Lokal has since moved to a bigger space along Annankatu.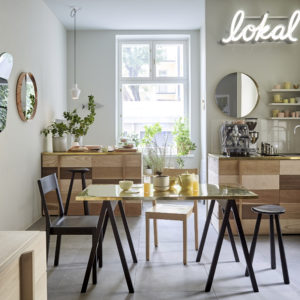 The core of Lokal started to really crystalize for me soon after opening the store. I want for Lokal to stand out with locality and with the crossing of skill with creativity. I have been lucky for the strong support network around me – Lokal has made friends. In addition, Lokal has attracted overwhelmingly both national and international media attention of which I'm extremely grateful. I feel it's my duty to carry on doing this work and to ensure that Lokal continues to live up to everything that has been written about it.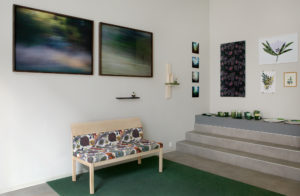 Despite its locality, Lokal also has an international side to it. I love traveling, and for me it's natural to bring the talent Lokal has gathered also abroad. Even though our regular Helsinki  customers are crucial for Lokal, I see internationalization as indispensable for Lokal's continuation. The last years I have been very tied up with this project on Annankatu. This year started off differently. Faith in the future made me hire a salesperson and take time for traveling, inspiration and new developments.
I first traveled to the opening of the exhibition Home at the Finnish Institute in Paris. The exhibition consists of Finnish huts built inside the institute which can be rented through Airbnb. The ceramist, Nathalie Lahdenmäki's, porcelain coffee cups designed for Lokal are a part of the concept. I have collaborated with the institute for a couple of years already in curating both their exhibition and shop. The institute's mission is to promote Finnish culture abroad, and it has been great to be involved in that. For me and Lokal, this cooperation has offered the opportunity to see and practice international cultural cooperation concretely.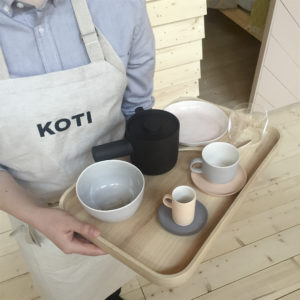 In Paris, I was especially delighted by Empreintes Paris: a concept store of three floors of utility articles and art from France. There, I came across Helsinki Artek's Annika Tammi and Henna Palonen. They had just said to each other that if Katja had an empire, it would look like this – and then they bumped into me, in Paris!
Empreintes Paris gave me joy and faith – that there are also others in the world who strongly believe in handmade, locality and the same values that I keep on insisting at Lokal. This was the wow of my trip.
During the last Helsinki Design Week, I met a Korean art curator Bora Hong. I told him about Lokal's Typocraft project and said that Korea would be a nice place for this exhibition. Then last year I got a phone call from Bora saying that now he has financing for this project – let's bring Typocraft to Seoul. So I continued my travels from Paris to Korea.
The Typocraft exhibition was originally presented at Lokal in 2015. The concept brings together graphic designers and artists who are enthusiastic about letters and typography. The approaches to typography have been quite playful.  Together with the curating team we brought ten artists' works from Finland to the exhibition in Seoul, and another ten artists were invited to the dialogue from Korea. The exhibition was presented at Gallery Factory until February 17th. The gallery is sweet, the same size as Lokal, and located in a lovely neighborhood with lots of coffee shops and book stores. I traveled there together with Finnish graphic designers Ilona Ilottu and Ilkka Kärkkäinen. We were taken from one artist's studio and showroom to the other – the trip was unbelievable!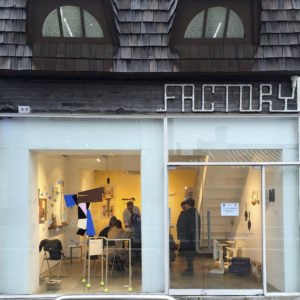 Typocraft is one of Lokal's exhibition concepts with which I wish to continue. We will make a new Typocraft exhibition for this year's Helsinki Design Week. The concept is also very well applicable for new kinds of international cooperation projects. Maybe Seoul will not be the last.
After Korea, I traveled to London. I met the gallerist Yvonna Demcynska and went to explore the Collect trade fair where her gallery also exhibited. For me, this trip was an excursion. An awe inspiring expedition that provoked and urged one to savor and fully enjoy. When traveling, you never know what you may come across. You open yourself up to opportunities. You can also gain faith in what you're already doing. A trip's outcome isn't necessarily a concrete new project. It would be locking away possibilities to think that a trip or an encounter should always bring forth a ready idea or outcome.
Now I feel good and safe. Lokal's exhibitions for this year have been booked. I don't yet know of the new. There is no secret plan; only an opportunity to examine more deeply, develop and ponder what Lokal will invest in next.
Text: Minna Särelä based on interviewing Katja Hagelstam, the founder of Lokal
Picture of Katja Hagelstam: Ananya Tanttu
Picture of Lokal's kitchen: Sameli Rantanen
Other pictures: Katja Hagelstam